Tashiro Kaplan Commercial Store Front - All Arts
$3107 per month

Long term rental available November 1, 2016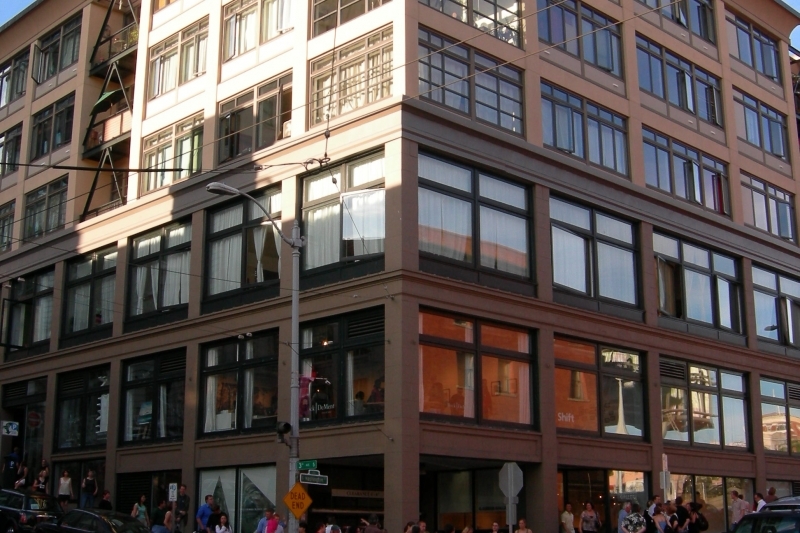 Square Footage
1985 sq. ft.
Accessibility
ADA compliant
Parking
Onsite parking (paid)
Street parking (paid)
Parking garage / parking lot nearby (paid)
Lighting
Natural lighting
Windows
Gallery track
Walls
Sheetrocked and Smooth
Cement / Concrete
Hangable
Flooring
Concrete
Other Qualities
Storage area

Type
Exhibition, Studio Art, Events, Retail
Disciplines
Visual Arts
The Space
1985 sq feet
$3107 MONTHLY RENT
(That's $14 per sq ft per year plus current yearly triple net of $4.78 per sq ft: monthly utilities not included in this figure)
AVAILABLE NOW
PRIME SPACE IN THE PIONEER SQUARE ARTS DISTRICT
PERFECT FOR A GALLERY OR DESIGN/IT START UP WITH GALLERY OR LARGE COMMERCIAL STUDIO WITH STREET FRONT GALLERY.
MUST BE AN ARTS BASED BUSINESS TO LEASE WITH THE TK
(Or maintain an onsite gallery as part of your rental agreement… this can be discussed further)
24 HOUR ACCESS
(noise limits after 10pm per Seattle City Code)
TRACK LIGHTING IN PLACE
SHARED COMMERCIAL RESTROOMS
(Professionally Cleaned Weekly)
HEAT AND AC
(billed by average usage through the TK)
EXTERIOR SECURITY CAMERAS / LEGAL FIRE SPRINKLERS-MONITORING
GREAT FOOT TRAFFIC WITH EXCEPTIONAL STREET PRESENCE
(Especially during Art Walk each month)
VERY CLOSE PROXIMITY TO LINK LIGHT RAIL/ BUSS ROUTES
MINIMUM 12 MONTH (Preference to 3-5 year lease).
NO INDUSTRIAL PROCESSES ARE ALLOWABLE IN THIS SPACE DUE TO VENTILATION AND WATER SEWER LIMITATIONS.
Monthly Rental
$3107 per month
Rent is base rent of $2,316 plus NNN of $791
The Basics
Shared bathrooms
Heating
Air Conditioned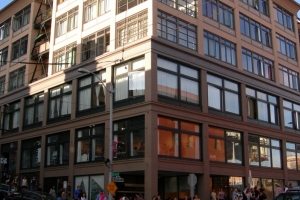 The Building
The Building
The Tashiro Kaplan Artist Lofts building houses 28 commercial arts related entities,plus the non-profit agency 4Culture, individual artist work-only studios(including 7 ventilated work studios for light vapor and 8 additional work studios for non-toxic material artists), artist exhibit co-ops and prestigious
commercial galleries.
The Tashiro Kaplan is a one stop center for visual art and other cultural activities, especially during the monthly First Thursday Artwalk in Pioneer Square. Along with huge crowds, the venues in the building play host to both planned and impromptu arts events and happenings.
The commercial portions of the building are open for First Thursday Art Walk from 5-9pm each month. Galleries set regular hours and the working studios are often available by appointment (individual studio hours are up to each tenant and must be obtained from them).
Hours
Current tenants have 24 hour access to their work spaces.
On-Street parking and a tenant garage (currently, there is an extensive wait list for this amenity)
Exterior Security Camera system and modern LED exterior lighting in all entry ways
Parking
Security
All Listings at Tashiro Kaplan Studios and Galleries