The Auditorium @ UHeights
High availability

$30 – $40 per hour
Open in Google Maps
University Heights Center
http://www.uheightscenter.org/ 5031 University Way NE, Seattle
Olena Billingsley
.(JavaScript must be enabled to view this email address)
(206) 527-4278

Maureen Ewing: Executive Director
Mason Wiley: Associate Director
Shirin Subhani: Outreach and Program Director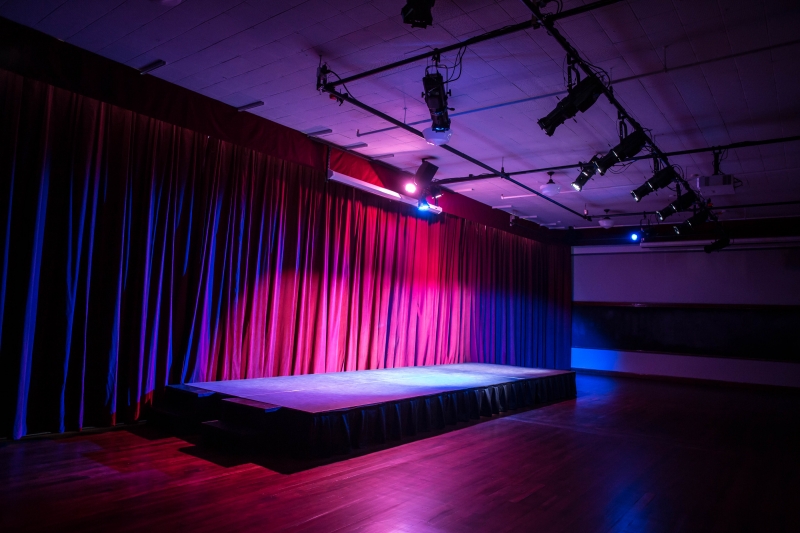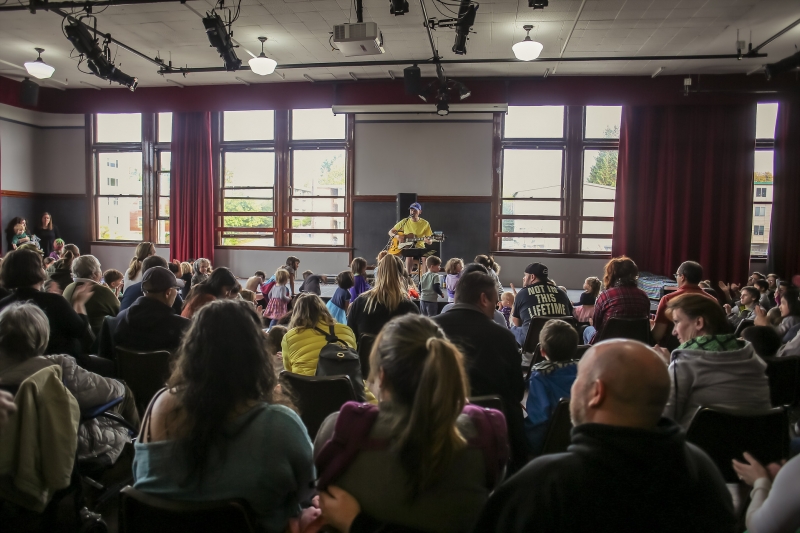 Dimensions
33 x 40.5 ft.
Square Footage
1336.5 sq. ft.
Ceiling Height
30 ft.
Max Occupancy
100 persons
Accessibility
ADA compliant
Loading zone
Parking
Onsite parking (free)
Street parking (free)
Street parking (paid)
Parking garage / parking lot nearby (paid)
Lighting
Natural lighting
Windows
LED
Lighting grid
Walls
White
Curtained
Flooring
Wood floors
Stage
Platform stage
Seating
Flexible seating
Performance Space
Lobby
Backstage
Dressing rooms
Other Qualities
Outdoor area
Storage area
We are renovating the space in 2016--please watch for improvements to AV, Lighting and overall space.
Type
Performance, Rehearsal, Exhibition, Studio Art, Meetings / Meetups, Workshops / Classes, Events, Screenings, Readings
Disciplines
Dance, Theater, Music, Visual Arts, Film/Video, Circus Arts
The Space
The Auditorium @ UHeights is a versatile space that is great for performance, rehearsal, meetings, theater, dance and much more. Foor area, 33' x 40.5', w/ raised wooden stage, 33" x 13.5'deep x 30" height, chalkboards, low movement dance only, theatre lighting on stage & at stage exit, standard upright piano (for rent) , theatre curtains & private stage exit (no built-in chairs), room located next to private restroom. Weddings, Reception & Banquet Rates available upon request. Deposit required. Room capacity (max. occupancy): 125 seated; Dance Room capacity 36 couples.
Hourly Rental
$30 – $40 per hour
All rates listed are hourly.
Mon - Fri, 8am - 6pm: $30
Mon - Fri, 6pm - 10pm: $40
Sat, 9am - 4pm: $40
Sun, 9am - 6pm: $40
---
Rental Requirements
Liability insurance is required for rental. Inquire about nonprofit discounts.
One time or occasional renters must pay for their space in advance. First time or one-time rentals require a 50% deposit of the total amount due with completed forms to confirm reservation, with the balance due 2 weeks prior to the first rental date.
---
Cancellation Policy
Cancellations can be made in person, via telephone, fax with confirmed signature, or via e-mail or website submission only with verbal confirmation from one of our office staff personnel. All cancellations are subject to cancellation fees.
UHeights reserves the right to cancel any rentals with 30 days notice. If renters need to cancel, 50% of the total rental cost will be kept. All confirmed reservations are subject to the fifty percent deposit rule.
UHeights reserves the right to require proof of liability insurance or signature of a liability release waiver for any group, organization, individual or business utilizing the UHeights facilities or grounds. UHeights reserves the right to require a damage deposit, license, or documentation for any and all activities by tenants, hourly rentals, or co-op users, and hold such deposit as deemed necessary upon discretion by UHeights management.
The Basics
Utilities included
Shared bathrooms
Private bathrooms
Heating
Wireless Internet
Utility / work sink
Equipment
Sound system
PA system
Microphones
Podium
Music stands
Digital projector
DVD Player
Screens
Lighting equipment (Theatrical)
Lighting board
White boards
Blackboard
Tables and chairs
Instruments
Performance piano
Rehearsal piano
Catering
Additional Info
Piano available for rent at additional cost.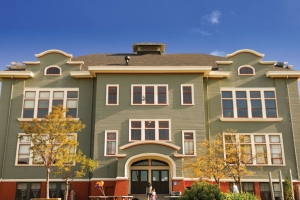 The Building
University Heights promotes life-long learning, creativity, culture, community activism, and the preservation of our historic building.
Above all, University Heights is devoted to our local communities: it's children, arts, education, civic involvement, sustainability, and the lifelong education of individuals of all ages, backgrounds and abilities. Moreover, residing in one of the most historic elementary school buildings in Washington State, we maintain the belief that "Old Schools Still Teach" - fostering community, cultural, and educational opportunities in both the University District and the Greater Seattle area.
Founded in 1989 by University District residents and businesses who believed this building would serve as a vital gathering place for the community, University Heights Center has been serving the Greater Seattle area since 1902. We continually provide new programs, services & activities to the center aimed at strengthening our neighborhoods while meeting the needs of our diverse and growing communities.
Annually, University Heights welcomes over 250,000 visitors through its doors and over 200 groups choose to make us their home.
For information about room rentals, please visit our website: http://www.uheightscenter.org/browse-rooms/
Hours
Monday – Friday: 8 AM – 10PM
Saturday: 9 AM – 4 PM
Sunday: 9 AM –6 PM
Parking
We are located in a very urban neighborhood & on-site parking is limited. We encourage all visitors to seek alternative modes of transportation in an effort to save parking for those in need. Consider busing, walking, biking or carpooling. Limited, free parking is available on streets around the center.
Where to Park & When
UHCCA does provide limited, free parking on a first come, first served basis for tenants, renters, members and visitors utilizing the building.
NORTH LOT (access on NE 52nd St & Brooklyn)
RESERVED for Center Tenants, Program.
VISITORS, parking Members, 4th handicapped parking spaces & pickup/dropoff (15 min area M-F 7a-9a & 4p-6p) only. NO PARKING ALLOWED IN RESERVED CENTER OR TENANT SPOTS LABELED WITH A "LOGO OR ICON" AT ANY TIME.
SOUTH LOT (access on NE 50th St & Brooklyn )
RESERVED for Center, Tenant Staff, Patrons & pickups/dropoffs (15 min area M-F 7a-9a & 4p-6p) only.
MON - FRI 8am - 4pm - ALL Hourly Renters/Program Participants MUST park in Northwest Lot during their stay at the University Heights Center. The University Heights Center Office will continue to have day passes available for hourly renters who will need only temporary parking. Parking passes can be pre-approved for any reservation (from 8am - 4pm) at the UH Center. If Northwest Lot is full, please ask our offices if we can accommodate you in another location. Remember Free street parking is available on the streets adjacent to our center.
Northwest Lot
Handicapped parking spaces are reserved for those employees, guests or hourly renters who visibly display the universal handicap placard in their vehicle or a universal handicap symbol on their license plates.
MON - FRI 4 - 10PM - After 4pm, Visitors may park in the South lot or North lot (for overflow parking), but must park in SPECIFIC SPOTS ONLY. All spots labeled as "Reserved" (South or North lots) are not to be used by Hourly Renters (during the hours of 8am - 10pm).
SATURDAYS - North Lot P