Coworking Space
Low Availability

$6 per hour

$30 per day

$125 per week

$325 per month

Long term rental available April 12, 2019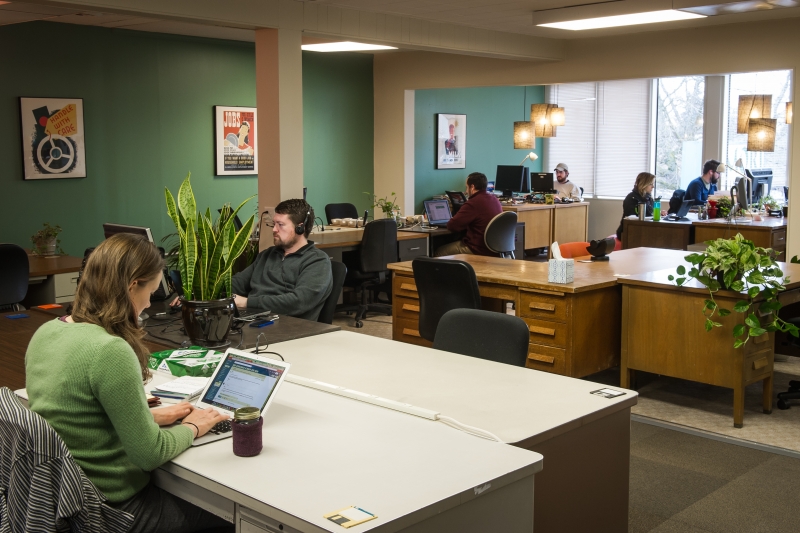 Square Footage
5000 sq. ft.
Accessibility
Accessible parking
Accessible entrance
Parking
Onsite parking (free)
Street parking (free)
Lighting
Natural lighting
Windows
Fluorescent
LED
Walls
Sheetrocked and Smooth
Acoustic panels
Flooring
Wood floors
Carpet
Seating
Fixed seating
Flexible seating
Performance Space
Lobby
Type
Meetings / Meetups, Workshops / Classes, Office Space
Disciplines
Visual Arts, Photography
Production / Fabrication
Audio recording / production studio
The Space
Works Progress is a small community sharing a mix of flexible coworking desks, dedicated desks and private offices. We also rent our multipurpose space and meeting rooms to outside groups. We offer a free trial day any weekday between 8am-6pm for first time users. Amenities include: High Speed Wifi & Ethernet, meeting rooms, phone booths, shared kitchen, receptionist, coffee, tea and snacks, printing, copy, & fax services, free parking, mail service, keycard access and dog friendly! Rates vary with day packages starting at $30 per day, hourly packages, and full time memberships. After hours access available after waiting period.
Hourly Rental
$6 per hour
Hourly memberships are available for month-to-month packages:
10 hours for $50/month
20 hours for $95/month
30 hours for $135/month
Daily Rental
$30 per day
Set monthly packages of days are available for a discount:
5 days for $125
8 days for $185
10 days for $225
Weekly Rental
$125 per week
Set monthly packages of days are available for a discount. Use them all in one week or spaced out over the month, you decided.
Monthly Rental
$325 per month
Full-time memberships are available starting at $325/month for full time access to the space between 8am-6pm, Monday through Friday, and flexible desk space. Add a dedicated desk for $50/month.
---
Rental Requirements
Works Progress offers membership on a month-to-month basis. No long term lease or commitment is required. If you are interested in becoming a member, please review our New Member Packet,: http://worksprogressseattle.com/wp-content/uploads/2014/12/New-Member-Packet.pdf which includes our Community Standards, and then come in for your one Free Trial Day. Your monthly membership begins on whatever day you start, any time during the month. Learn even more on our FAQ page http://worksprogressseattle.com/about-works-progress/.
---
Cancellation Policy
No deposit for coworking memberships. Seven days advance notice prior to billing date to cancel a recurring membership.
The Basics
Utilities included
Shared bathrooms
Heating
Air Conditioned
Wireless Internet
Wired Internet
Kitchenette
Equipment
Microphones
Easels
Digital projector
Film projector
DVD Player
Screens
White boards
Tables and chairs
Catering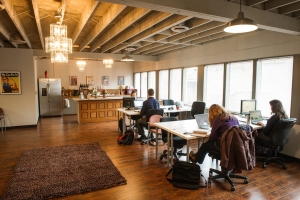 The Building
We are a Coworking Space for independent and socially minded workers and small business owners who'd like to work around other people. We have meeting rooms, private offices, event and classroom space and open coworking areas. Our event and classroom space is available evenings and weekends and has great lighting for photo shoots. Our high speed wifi is available throughout the building and our comfortable, "nerd" decor should make anyone in the creative field feel right at home.
Hours
We are open Monday-Friday from 8am-6pm and 24/7, 7 days per week for our full time and private office members. The event/classroom space is available anytime weekends and evenings after 6pm.
Parking
We have free on-site parking for up to 8 and free street parking throughout the neighborhood.
Security
Security cameras, keypass secure door entry to the building, keycode entry to the full time suite with security alarm for after hours. Business Internet, Ethernet, and firewall.