Studio Theater
Medium availability

$20 – $100 per hour

$175 – $1000 per day

$500 – $2500 per week

Subsidized space available
Open in Google Maps
The Behnke Center for Contemporary Performance (On the Boards)
https://www.ontheboards.org/ 100 West Roy Street, Seattle
Betsey Brock
.(JavaScript must be enabled to view this email address)

​Visit our website at OntheBoards.org/rentals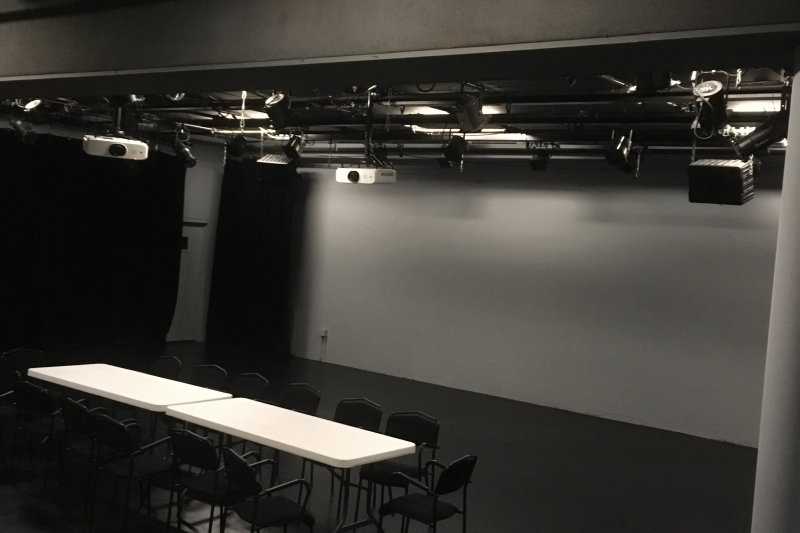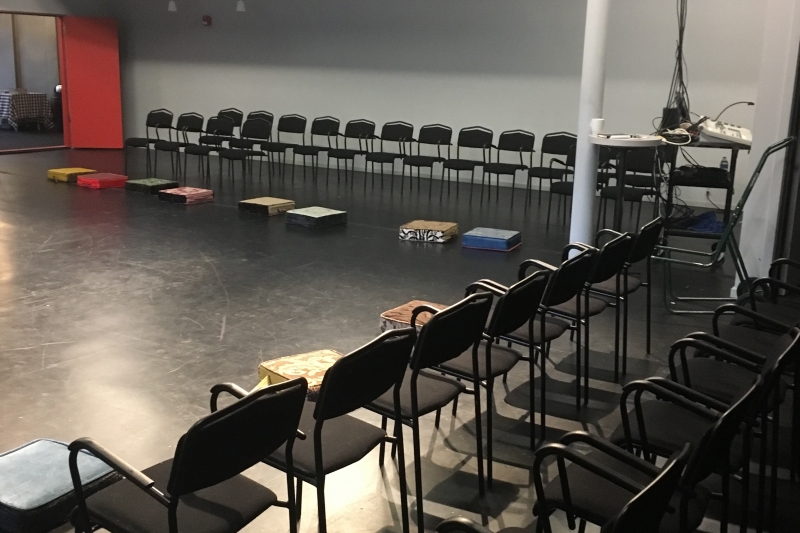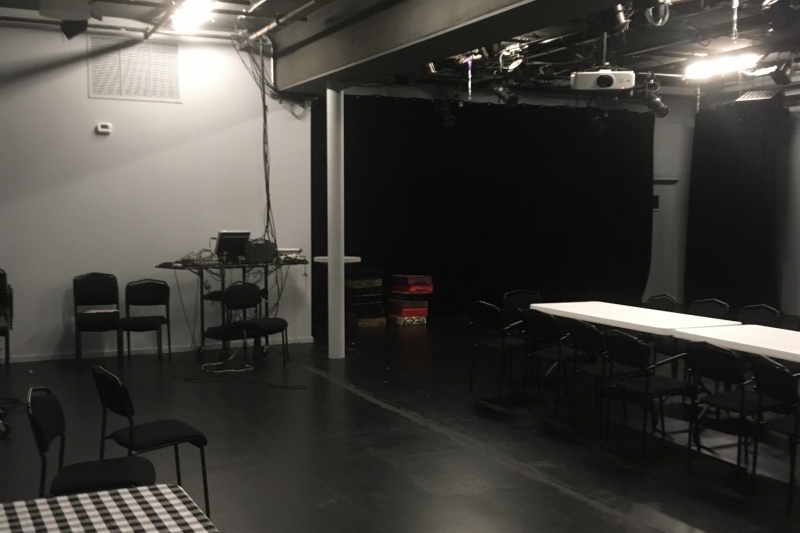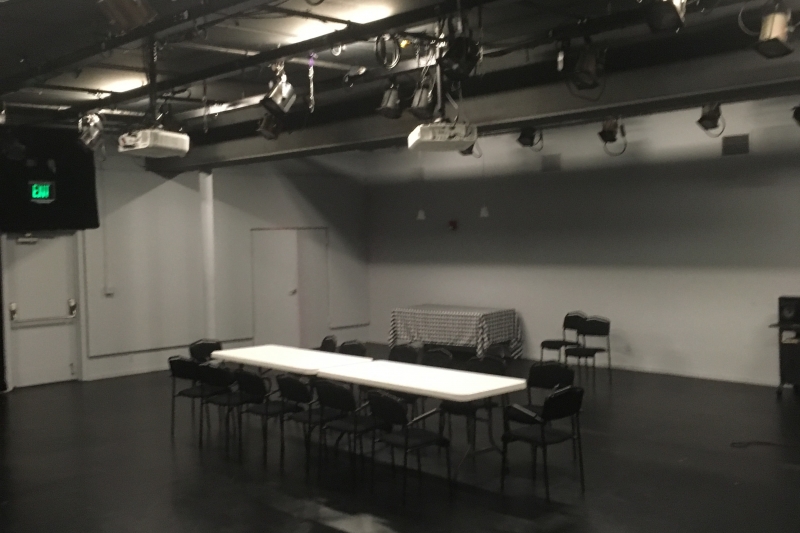 Dimensions
39.11 x 32.7 ft.
Square Footage
1278.9 sq. ft.
Max Occupancy
80 persons
Accessibility
ADA compliant
Accessible parking
Accessible entrance
Accessible restroom
Elevator
No stairs
Parking
Onsite parking (paid)
Street parking (free)
Street parking (paid)
Parking garage / parking lot nearby (paid)
Lighting
Lighting grid
Walls
Cement / Concrete
Curtained
Flooring
Sprung wood
Marley
Stage
Black box
Seating
Flexible seating
Performance Space
Theatrical rigging (things)
Backstage
Dressing rooms
Showers
Stage curtains
Type
Performance, Rehearsal, Meetings / Meetups, Workshops / Classes, Screenings, Readings, Film Location
Disciplines
Dance, Theater, Music, Visual Arts, Photography, Film/Video, Circus Arts
Availability
Send us your dates and preferred times, we'll let you know if we can accommodate your request.
The Space
The need for affordable and professional spaces to make work is palpable in Seattle, and On the Boards wants to see its spaces used by more community members, more of the time!

Rentals at the Behnke Center for Contemporary Performance are a service of On the Boards, and they are not curated, but priority is given to shows and events that align with our mission and that are committed to anti-oppression.
For shows, events or artistic projects working to build community projects that are socially or civically inclusive – where are rental rates are prohibitive, contact us to discuss possible partnerships, co-production, or subsidized rental.
Our Studio Theater is a flexible black box space, 39'11" x 37'2"
Lowest rates apply to artists / groups who need great space, work lights, and no technical support, and are hosting meetings or rehearsals that are not open to the public.

Highest include technical support, audio / visual equipment, box office and ticketing services, house management (required for any event open to the public) - rentals will be charged for

There is an adjacent kitchen, a dressing room, a private bathroom with a shower, and gender-neutral public restrooms.
Hourly Rental
$20 – $100 per hour
Daily Rental
$175 – $1000 per day
Weekly Rental
$500 – $2500 per week
Subsidized space available (free)
We are interested in sharing our space with our community, but also in keeping our organization financially stable, sustainable, and in paying our staff for the labor it requires to open and maintain our theaters. Have a partnership idea? Let's talk! Send us an email at info@ontheboards.org.
---
Rental Requirements
All renters must carry their own liability insurance, and share proof on insurance at least a week before use the space.
---
Rules & Regulations
• ABSOLUTELY NO SMOKING IN THE BUILDING. Any officer, agent, contractor or
subcontractor, etc. of the Licensee caught smoking in the building will result in fines
and/or cancellation of the rental agreement.
• Do not prop doors open. An unattended door left open by the Licensee will
result in a $50.00 fine per infraction. In addition, any thefts which occur as a result of
unattended doors will be charged to the Licensee.
• Do not let anybody you don't know or aren't expecting into the building, for any reason.
• Please do not adjust the thermostats. The temperature is programmed into the unit. If
the room is too hot/cold please ask for assistance.
• An OtB technician must be present before moving or using any equipment. The use of
any equipment (including, but not limited to, light board, sound board, lifts, monitors,
VCRs, ladders) by the Licensee without OtB permission is prohibited.
• No scenery may be on the stage without fabric or carpet on the bottom to protect
the floor
---
Cancellation Policy
A non-refundable deposit of 50% of the total estimated costs holds the space.
The Basics
Utilities included
Shared bathrooms
Heating
Air Conditioned
Wireless Internet
Wired Internet
Kitchenette
Equipment
Sound system
Microphones
Podium
Amplifiers
Music stands
Digital projector
Lighting equipment (Theatrical)
Lighting board
Tables and chairs
Catering
Bar available
Alcohol allowed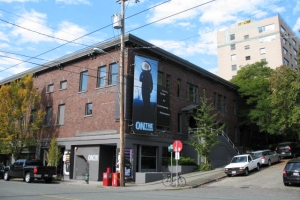 The Building
On the Boards moved into its current space, the Behnke Center for Contemporary Performance, in 1998 in Seattle's lower Queen Anne neighborhood in the historic Queen Anne Hall.
On the Boards invests in leading contemporary performing artists near and far, and connects them to a diverse range of communities interested in forward-thinking art and ideas.
We believe if we are successful in our work that we can grow our field, enrich peoples' lives, and contribute to civic and global dialogues.
On the Boards values:
artistic risks while being fiscally responsible;
leadership in our field and the multiple communities we serve to strategically advance the role contemporary artists play in society;
racial and social equity, and accountability;
provocative art as a vehicle to connect people of diverse backgrounds and perspectives;
our regional creative community as we engage with international artists and peers;
professional and transparent management.
On the Boards presents more than 40 shows over 75 performance nights each year in two theaters: our 300-seat Merrill Wright Theater and our intimate 84-seat Studio Theater.
We have space appropriate for screenings, celebrations, meetings, rehearsals, and performances.
Please direct rental inquiries to info@ontheboards.org.
Hours
Venue hours for rentals and partnerships are subject to availability.
Administrative Offices
Tue-Fri, 10 am-6 pm
206-217-9886
Box Office
Tue-Fri, 12-4 pm
206-217-9886 x1019
boxoffice@ontheboards.org
Parking
OtB is located in Uptown at 100 West Roy St, Seattle WA, 98119, on the corner of 1st Ave West and West Roy St.
Parking Lots (within 3 blocks of OtB)
U-Park - 1st Ave W / West Roy - $10.00 after 6PM
Diamond - 1st Ave W (between W Roy & Mercer) - $5.00 after 5PM
Republic - 2nd Ave W (behind KFC) - $5.00 after 5PM
Chase Bank Lot - (Mercer / 1st Ave N) - evenings after 6PM, Sat after 2PM, Sun/Holidays All Day - $3.00 per hour
4-Hour Street Parking
Mercer between 1st Ave W and 2nd Ave W
1st Ave W between W Roy and Mercer
1st Ave W between Republican and W Harrison
Public Transportation
Bus Routes: D line, 1, 2, 8, 13, 29, 32
Accessibility
Our ADA entrance is located on the Roy Street side of the building. Ring the doorbell by the mailbox for entry. If you require ADA assistance for an upcoming performance, please contact us at 206-217-9886 in advance so that we can accommodate your needs.
All Listings at The Behnke Center for Contemporary Performance (On the Boards)