Sanctuary at Gethsemane Lutheran Church
Medium availability

Hourly rental available

Daily rental available

Subsidized space available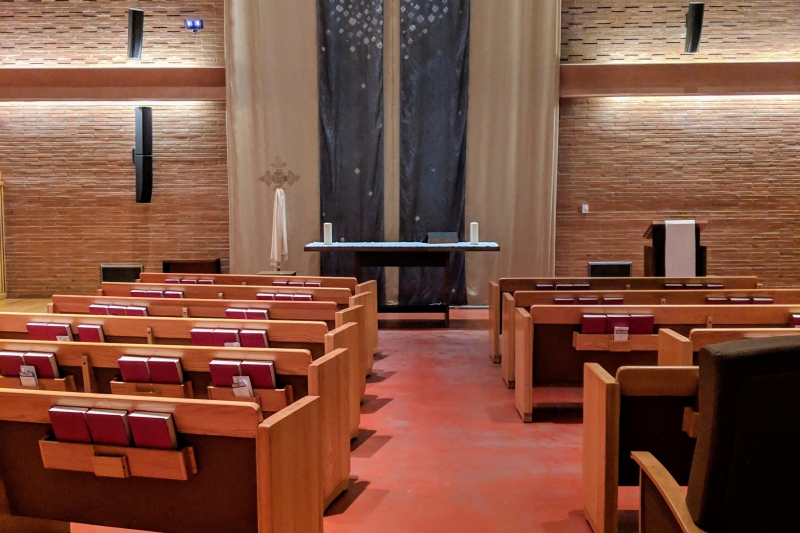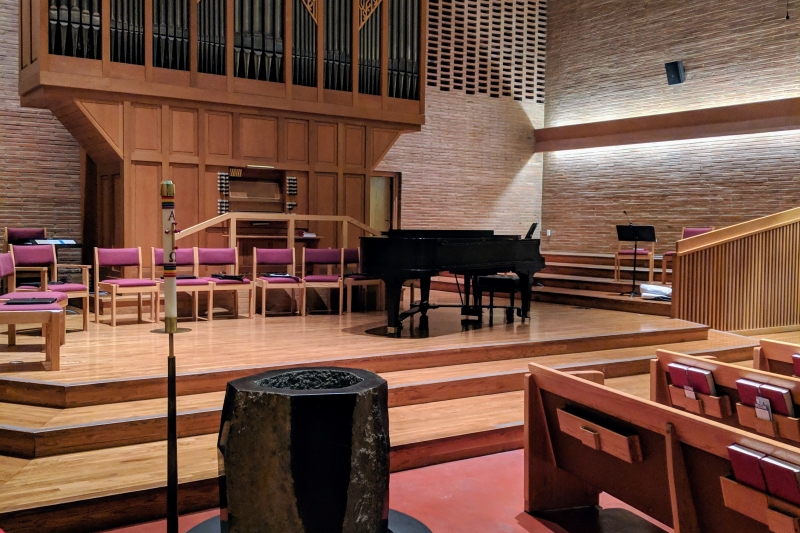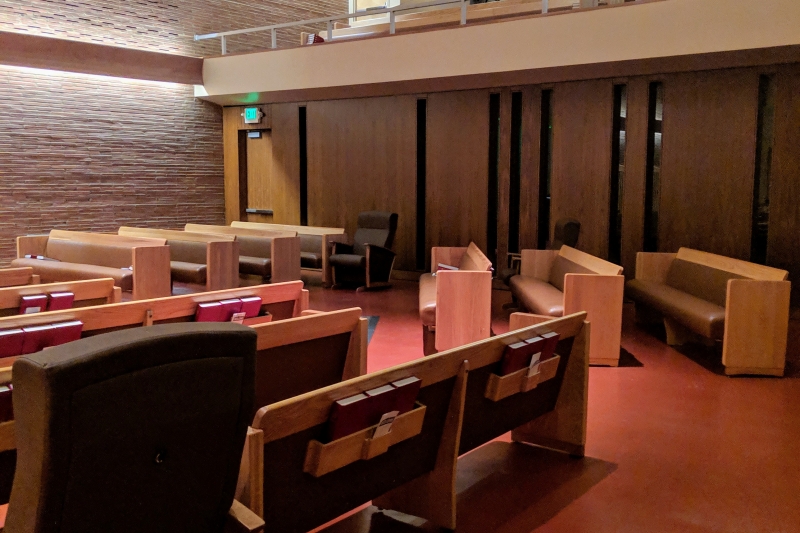 Square Footage
3500 sq. ft.
Ceiling Height
110 ft.
Max Occupancy
450 persons
Accessibility
ADA compliant
Accessible parking
Accessible entrance
Accessible restroom
Elevator
No stairs
Parking
Street parking (paid)
Parking garage / parking lot nearby (paid)
Lighting
Natural lighting
Windows
Fluorescent
LED
Walls
Sheetrocked and Smooth
Brick
Flooring
Wood floors
Concrete
Stage
Platform stage
Seating
Fixed seating
Multi-level
Flexible seating
Performance Space
Lobby
Backstage
Dressing rooms
Type
Performance, Rehearsal, Exhibition, Meetings / Meetups, Events
Disciplines
Dance, Theater, Music
Production / Fabrication
Audio recording / production studio
Availability
Most evenings and some weekends are available - however the space is always occupied on Sundays and major holidays.
The Space
The sanctuary is a large space with fixed seating and high ceilings. It features a 29-stop, two-manual Fritts Opus 6 organ​, a performance piano and sound equipment/system. The space has undergone architectural and acoustical renovations to enhance the musical experience.
Hourly Rental
Contact the space for rates
Rates depend on scheduling and purpose of the rental - email or call for specific pricing.
Daily Rental
Contact the space for rates
Rates depend on scheduling and purpose of the rental - email or call for specific pricing.
Subsidized space available (free)
For organizations, or projects, that match with our mission priorities, there may be an opportunity at certain times and on certain days for free use of our space.
The Basics
Utilities included
Shared bathrooms
Heating
Air Conditioned
Wireless Internet
Equipment
Sound system
Microphones
Podium
Amplifiers
Music stands
Hearing Assistance Equipment
Instruments
Performance piano
Rehearsal piano
Percussion instruments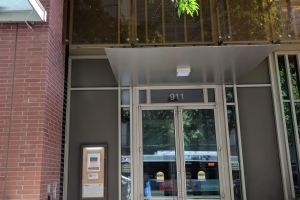 The Building
As Gethsemane Lutheran Church and The Garden, we commit ourselves to forming and reforming as a community of Christ in the heart of Seattle, land of the Duwamish.
We are people of many gender identities and expressions, sexual orientations, abilities, ages, races, nationalities, and ethnicities. We are housed and experiencing homelessness; struggling with addiction and living one day at a time; employed, and retired. We are working through physical, mental, and spiritual health issues.
We are neurotypical and neurodiverse. We come from and live in many family structures. Some of us sing, some of us don't; some dress casually, some formally; some have tattoos, some piercings, some no body art at all.
We trust, we doubt. We struggle, challenge and seek. We affirm that black lives matter, that the earth and all life must be treasured and protected, that science is a valid practice, that no human is illegal, and that immigration status is not a condition of belonging.
Our building features a beautiful sanctuary space as well as a large community room, a small chapel and an indoor/outdoor garden space.
Hours
Office is open 9-4 Monday - Thursday, Sunday mornings for worship, and for special events.
Parking
There is limited free parking in GLC designated spaces on the lower level of the Aspira parking garage next door Mon. - Sat. for church events and free parking in any unreserved space on Sunday mornings. Paid parking in the garage or on the street is available if the spaces are full and any other time.
Public Transportation
Across the street from bus stop running lines 594, 545, 512, 70, 413, 421, 578, 590, 218, 592, 412, 577, 355, 595, 216, 425, 304, 435, 416, 219, 510, 511 and more. Just a 15 minute walk from the Capital Hill light rail station.
Accessibility
Parking, venue, restrooms, and office are all accessible by ramp or elevator.
Security
Security cameras are in use 24/7 and doors are locked with access by key/voice pad when office is open but venue is not in use.