Editions
High availability

$10 – $50 per hour

$100 – $200 per day

$200 per month

Long term rental available September 1, 2018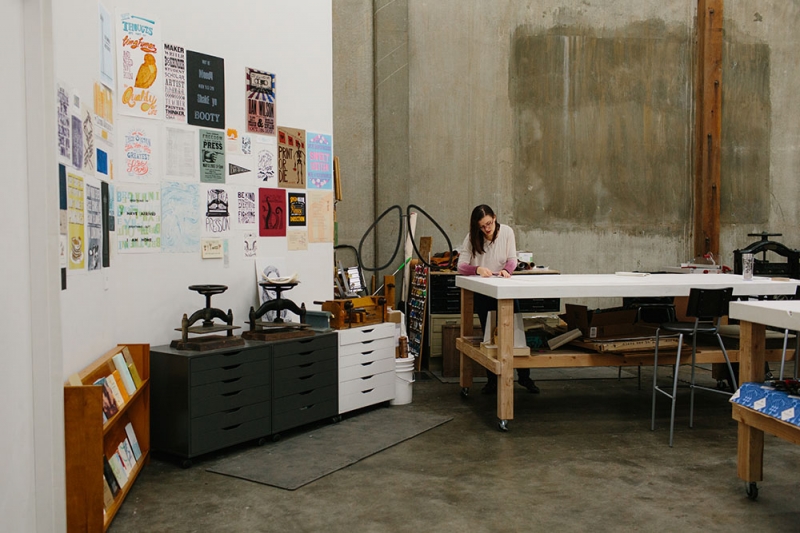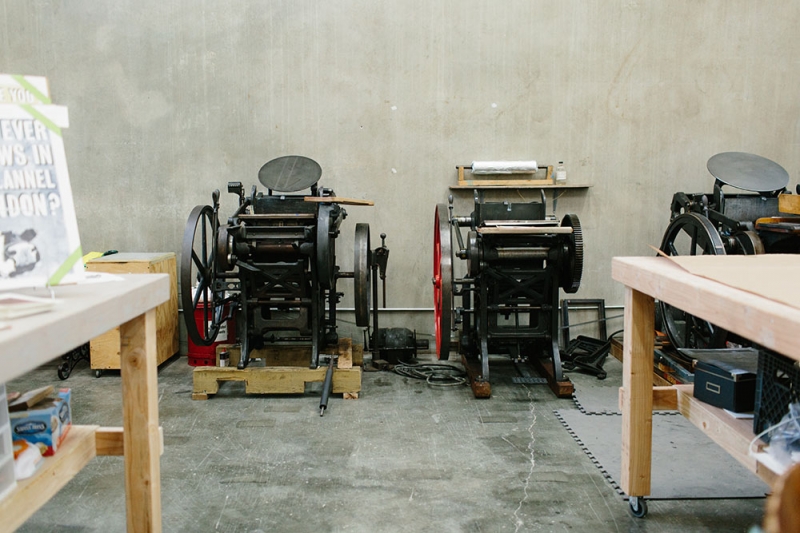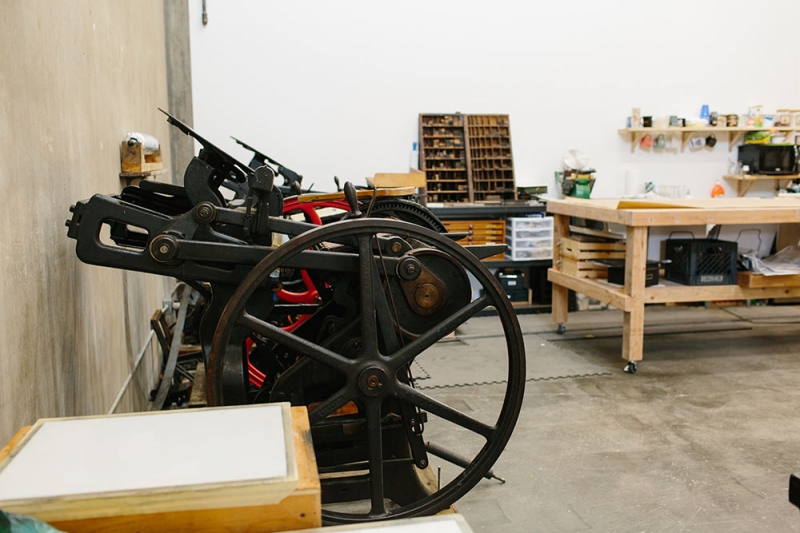 Dimensions
45 x 25 ft.
Square Footage
1100 sq. ft.
Ceiling Height
20 ft.
Max Occupancy
30 persons
Accessibility
Accessible entrance
Accessible restroom
Loading zone
Parking
Street parking (free)
Lighting
Natural lighting
Windows
Fluorescent
Walls
Sheetrocked and Smooth
Cement / Concrete
White
Hangable
Flooring
Concrete
Seating
Flexible seating
Other Qualities

Forklift access with big rollup door.
Type
Studio Art, Meetings / Meetups, Workshops / Classes, Events, Readings
Disciplines
Visual Arts
Production / Fabrication
Printmaking, Letterpress
The Space
24/7 access
10 different kinds of printing presses: relief, etching, lithography, hot stamping, die cutting
4 type cabinets with wood and lead type
Large guillotine
Book presses
Bookbinding and leather finishing tools
Book arts library
Book arts gallery
4 4x8 work tables
Full time renters get two large flat file drawers for storage and may participate in the monthly Georgetown Artwalk.
Hourly Rental
$10 – $50 per hour
Hourly rate to work in the studio is $10/hour. If you want to hold a workshop or other event, it's $50/hour. Full-time renters may reserve the whole studio for $25/hour.
Daily Rental
$100 – $200 per day
If you want to hold an all-day workshop or event, it is $200/day. Full-time renters may reserve the whole studio for $100/day.
Monthly Rental
$200 per month
Rent is month-to-month, but you need to clear out all of your tools and supplies if you do not pay rent in any given month.
---
Rental Requirements
All renters, regardless of experience, must take a 60-minute equipment use and safety training workshop, which is $75.
Beginning printers may need to receive additional training.
---
Rules & Regulations
Clean up after yourself and be respectful of the neighbors and building we're in.
---
Cancellation Policy
Full-studio rentals must be scheduled at least two weeks in advance with a 50% deposit. Half of the deposit may be refunded if cancellations come in at least two weeks in advance.
The Basics
Utilities included
Shared bathrooms
Heating
Wireless Internet
Utility / work sink
Kitchenette
Equipment
Digital projector
Tables and chairs
Additional Info
Paper and binder's board are available to purchase at discounted rates. Ink, PVA, and linen thread are free to use while in the studio.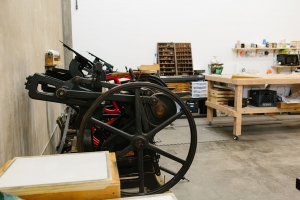 The Building
Editions is a community of book artists run by book artists. We have 10 printing presses of various kinds, including a 10x15 die cut press and a 9x12 hot stamper. There are four type cabinets with lead and wood type, leather paring and finishing tools. There are 3 book presses and various finishing presses and sewing frames for bookbinding, as well as a guillotine for cutting stacks of paper and a board shear for cutting binders board. The attached gallery shows the work of local book and paper artists and printmakers, and full-time renters at Editions get to participate in the monthly Georgetown Artwalk.
Hours
Open for the second Saturday Artwalk every month. All other times by appointment.
All full-time renters get their own key and 24/7 access.
Parking
Free street parking
Public Transportation
On bus route 131 and 132
Accessibility
Wheel chair accessible
All Listings at Editions