The Screening Room at Scarecrow Video
Medium availability

$0 – $40 per hour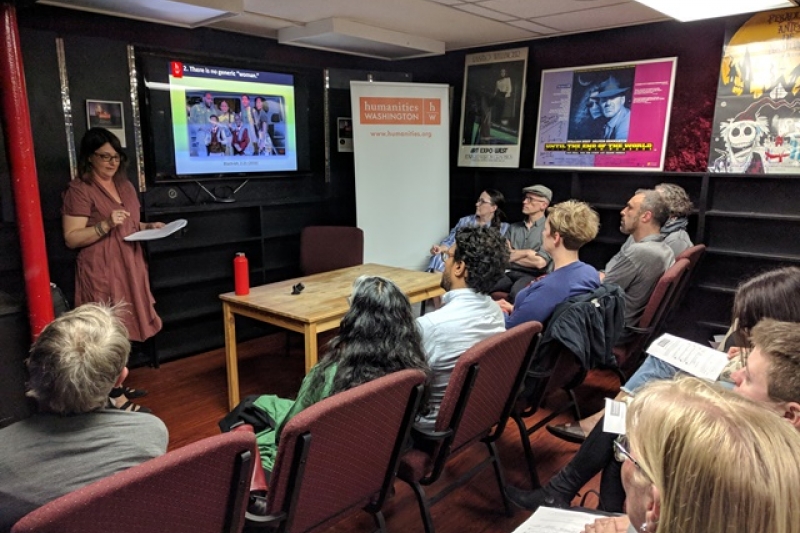 Max Occupancy
30 persons
Accessibility
ADA compliant
Accessible entrance
Accessible restroom
Parking
Onsite parking (free)
Street parking (free)
Street parking (paid)
Lighting
Natural lighting
Windows
Fluorescent
Flooring
Other
Seating
Flexible seating
Other Qualities

The space is small, is not walled off and does not have a separate entrance. Curtains are drawn during screenings and events.
Type
Meetings / Meetups, Workshops / Classes, Events, Screenings, Readings
Disciplines
Film/Video
The Space
​The Screening Room is a small community space that hosts several screenings, film clubs, cultural organizations, special events, scholarly lectures, release parties, and private parties on a monthly basis.
Hourly Rental
$0 – $40 per hour
Standard: $40/hour
Educators/students: $30/hour
Scarecrow Members at certain levels can receive significant rental discounts (ask for more information)
Events that are free and open to the public do not require a paid rental.
---
Rules & Regulations
A paid rental and a Banquet Permit are required for any group that wishes to have alcohol present for their event. Food is permitted on a case-by-case basis.
All groups and events must end no later than 30 minutes before Scarecrow closes.
Scarecrow Video Hours of Operation:
Wednesday, Friday, Saturday: 11-11pm
Monday, Tuesday, Thursday, Sunday: 11-10pm
The Basics
Utilities included
Heating
Wired Internet
Equipment
Sound system
Podium
DVD Player
TV
Tables and chairs
Catering
Concessions
Alcohol allowed
Self catering allowed
Additional Info
Food is permitted on a case-by-case basis. We appreciate it when attendees can support us by purchasing concessions from Scarecrow.
The Building
The Screening Room at Scarecrow Video hosts between 10-12 ongoing film clubs and cultural groups each month. A number of scholarly lectures and special events are also offered in the Screening Room at Scarecrow. Screening capabilities include PAL and region-coded movies, Blu-ray, DVD, and VHS.
Unless otherwise listed, all screenings and events on the calendar are free and open to the public.
​Scarecrow Video is dedicated to championing the indispensable role of film arts in community, cultural, and civic life. A Seattle institution since 1988 and proudly nonprofit since 2014, Scarecrow Video is the largest and only video library of its kind with 131,000 titles and counting.
Hours
Varies
Parking
Off-street parking available; a few parking spaces available to Scarecrow patrons in the adjacent lot
Security
N/A
All Listings at Scarecrow Video Screening Room