art studio w/high ceiling ~ $660
$660 per month

Long term rental available May 1, 2018
Dimensions
15 x 18 ft.
Square Footage
270 sq. ft.
Ceiling Height
12 ft.
Max Occupancy
1 persons
Accessibility
Loading zone
Parking
Street parking (free)
Street parking (paid)
Parking garage / parking lot nearby (paid)
Lighting
Natural lighting
Windows
Fluorescent
Walls
Sheetrocked and Smooth
White
Hangable
Flooring
Wood floors
Other Qualities
Ventilation

Type
Studio Art
Disciplines
Visual Arts
The Space
Available May 1: This space is just a few blocks east of the TK Lofts & Pioneer Sq galleries. Approx 15x18 ft, 12' ceiling, 2 big windows facing north. Walls & ceilings are smooth-wall, drywall over wood studs. The ceiling has fluorescent lights and a 4-plex outlet with a switch on the wall so it's easy to rig up other lighting. It has it's own vent fan on the ceiling and it's own heater. Fine artists only, (painting, drawing - no industrial or production work). This is work space only, not live/work. Parking in this neighborhood is free at night, great public transportation - just 1 block from light rail, street car, and many bus routes.
If interested please send me an email with your name, email, phone number, website link, and tell me what kind of materials you use (acrylic, oil, charcoal, etc)
————————
If this space has already been rented or isn't quite right for you & you'd like to be on my WAITING LIST please send me a message with ALL of the following info:
- name, email, phone number, website link
- minimum size you need, and max price you can handle
- ideal start date
- what materials you use (acrylic, oil, charcoal, etc)
- private space only, or are you interested in sharing a space?
- could you work in a space with no windows (with good ventilation), or do you need natural light?
- any other special requirements you have that might help me match you up with the right space?
thx!
Jaq
Monthly Rental
$660 per month
1 yr lease with first & last, plus $200 key deposit.
The Basics
Utilities included
Shared bathrooms
Heating
Wireless Internet
Utility / work sink
Kitchenette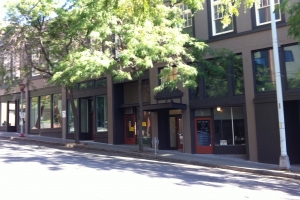 The Building
519 art studios is a group of work spaces for visual artists in downtown Seattle. We're located in J-town ~ the Japantown portion of the I.D. a few blocks from the Pioneer Square art galleries. (on the 2nd floor above Bryan Ohno gallery)
Parking
This is an excellent spot for public transportation - light rail & street car both stop a block away on Jackson, plus a number major bus routes stop very close by. Parking is either metered parking on the street (free after 8pm), or many pay lots in the neighborhood.
Security
Security cams