Justice, Creativity, and Art Studio
High availability

$450 per month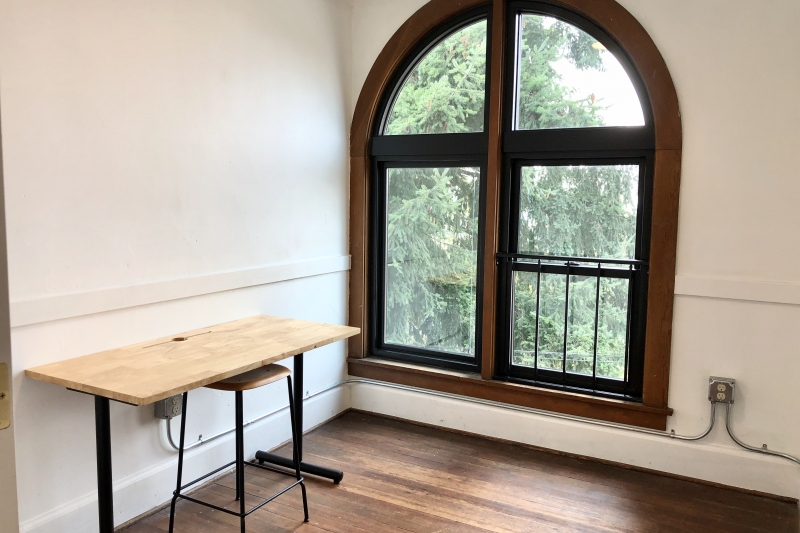 Dimensions
8 x 9.75 ft.
Square Footage
78 sq. ft.
Ceiling Height
8 ft.
Max Occupancy
2 persons
Parking
Street parking (free)
Lighting
Natural lighting
Windows
LED
Walls
Plaster and Lathe
White
Flooring
Wood floors
Type
Studio Art, Office Space
Disciplines
Visual Arts, Photography, Film/Video
Availability
All studios are currently vacant.
The Space
​We have 1 Studio available after December 8th* with large arched windows, ceiling lighting, wood floors, and white walls. Each studio comes with a desk, a stool and access to the Incubator, Community Living Room, Kitchen, and Conference Room. Coffee, Tea, High Speed Internet, and communal office supplies are included in the membership. The studios are secured by a key lock. Bathrooms and kitchen are on the level below the studios.
For Artists: There is a utility sink in the basement you have access to. We also have a garage with a table saw and miter saw and plenty of scrap wood available if you'd like to use them. Artists who want access to tools and equipment MUST sign a waiver at no additional cost to the rent.
Studios available:
78 sq ft for $450 (1 available after December 8th)
108 sq ft for $500 (0 available)
208 sq ft for $600 (0 available)
Monthly Rental
$450 per month
Discounts available based on lease term and more!
---
Rental Requirements
Must sign contract and COVID Addendum in order to rent these spaces.
---
Rules & Regulations
WELCOMING AND RESPECTFUL SPACE POLICY: In partnering with the Collaboratory, you agree to promote social justice, equality, and equity through respectful treatment of all people and users of the Collab. There is no tolerance of discrimination, violence, harassment, and hate speech. Any such action should be reported to Collaboratory Staff. The Ravenna Collaboratory reserves the right to evict objectionable persons from its premises and terminate a Partnership agreement within its discretion for reasons including but not limited to offensive, violent, or oppressive behavior. This includes but is not limited to: sexism, racism, colorism, anti-blackness, ableism, ageism, Islamophobia, Anti-Semitism, homophobia, fatphobia, transphobia. Partners acknowledge that they understand, accept, and support the social mission of the space and the nature of the Collaboratory as a shared, inclusive, and multi-purpose space. In partnering with the Collaboratory you assume responsibility for your guests
---
Cancellation Policy
For month-to-month rentals, no deposit required but must complete payment for month rented.
The Basics
Utilities included
Private bathrooms
Heating
Air Conditioned
Wireless Internet
Utility / work sink
Full kitchen
Dining Area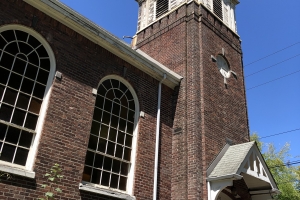 The Building
The Ravenna Collab, sibling organization to the Hillman City Collab in South Seattle, is an incubator for social change that focuses on community through art and creativity. The building, formerly Ravenna United Methodist Church, is now open with art studios, coworking space, private offices, and venue rentals.
Hours
24/7 access given to coworkers and tenants in private offices and studios.
Event rentals available from 7 am to 12 pm during the week, and 7 am to 2 am on Friday and Saturday.
Parking
Street Parking available. Handicap parking available in on-site parking lot.
Public Transportation
Bus Stop 2 blocks north for 62, 64, and 71
Bus Stop 2 blocks east for 65
Accessibility
Our building is NOT ADA accessible. The building has stairs at every entrance of the building with no elevator, yet.
Security
Doors accessible with key-code pad
All Listings at Ravenna Collaboratory