Founders Studio
Medium availability

$25 – $40 per hour

$150 – $250 per day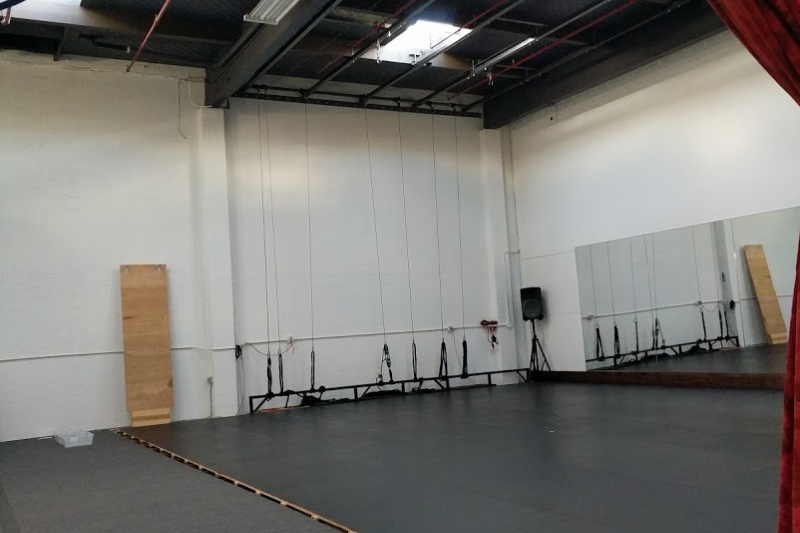 Dimensions
40 x 40 ft.
Square Footage
1600 sq. ft.
Ceiling Height
21 ft.
Max Occupancy
49 persons
Accessibility
ADA compliant
Accessible parking
Accessible entrance
Accessible restroom
No stairs
Parking
Street parking (free)
Lighting
Natural lighting
Windows
Fluorescent
Walls
Cement / Concrete
White
Flooring
Sprung wood
Other Qualities
Barres
Mirrors

Type
Rehearsal, Meetings / Meetups, Workshops / Classes, Readings
Disciplines
Dance, Theater, Music, Photography, Film/Video, Circus Arts
Availability
The Founders Studio is generally available Monday-Thursday before 5pm, and Saturdays and Sundays after 4pm.
The Space
​The Founders Studio is a 40'x40' room with skylights, a 28'x40' sprung floor with painted masonite covering, and 8' tall mirrors, with a sound system with headphone jack to accommodate your music player or computer. Portable ballet barres and folding gymnastics mats are available for renters' use if desired.
Hourly Rental
$25 – $40 per hour
Rental is available in this space in two different formats: just the dance floor area ($25/hour) with the possibility of other activities taking place elsewhere in the room OR the entire room with no other activities in the space ($40/hour).
Daily Rental
$150 – $250 per day
Rentals in excess of five (5) consecutive hours may qualify for a day rate. Please contact us to discuss.
---
Rental Requirements
Please review our complete rental policy and application document for all requirements associated with utilizing space at Arcadia.
---
Rules & Regulations
Please review our complete rental policy and application document for all requirements associated with utilizing space at Arcadia.
---
Cancellation Policy
A deposit of 50% of your rental fee may be required to confirm your reservation. Cancellations within 24 hours of a scheduled rental may be assessed 50% of the rental fee.
The Basics
Utilities included
Shared bathrooms
Heating
Wireless Internet
Utility / work sink
Equipment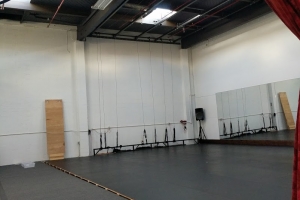 The Building
​Arcadia is the home of The Cabiri, a 501(c)(3) nonprofit organization dedicated to preserving myth and folklore through acrobatic theatre. Arcadia opened its doors in March 2018, and the studio is available to others in the community when not in use for our classes and rehearsals. The studio consists of three primary spaces: the Founders Studio (a 28'x40' sprung floor with 8' tall mirrors), the North Studio (a 18'x20' 1" foam floor area) and the Loft (a 12'x24' elevated space that overlooks the North Studio. All rooms contain skylights which allow lots of natural light during the day.
Hours
Hours vary by the day but generally the space is occupied with classes or workshops and there are staff present weekday evenings 5-9pm and weekends 11am-4pm. Please contact us to schedule an appointment to tour the space if you are interested in rental and read our rental policies and procedures document located here: http://www.cabiri.org/rentals/
Parking
Free off street parking with no hourly limit is available in all of the surrounding blocks. Arcadia is also accessible via King County Metro routes 28, 40, and D Line. There are bicycle racks at the east end of our block in front of Lucky Envelope Brewing Co.
Security
Limited key holder access to Arcadia, with two locked doors in order to gain access. Security camera system will be installed in Spring of 2018.
All Listings at Arcadia